The Beginner's Guide to Notion
Notion is one of the fastest growing productivity applications right now, with users
ALL YOUR USEFUL LINKS
Before we begin, let's equip you with all our resources for Notion:
Notion is an all-in-one workspace where you can write, plan, collaborate and get organized - it allows you to take notes, add tasks, manage projects & more.
Imagine a lego structure.
Notion provides the building blocks and you can create your own layouts and toolkit to get work done. Many people refer to Notion as an "internal wiki" allowing teams and individuals to plan their projects, work and goals.
This workspace allows you to write in a beautiful clean space, build your own personal wiki (with endless layers of content), plan using a kanban view, a calendar or a simple list view and last, but not least, to capture your workflows and record everything creating spreadsheets and databases. Notion works across all platforms including on Android, iOS, Mac, Windows, Web.
Notion offers team functionality for real-time collaboration and provides the ability for teams to share, comment and assign tasks and reminders. So as much as individuals and professionals can use Notion, so can teams.
How does Notion work?
The official tagline reads "The all-in-one workspace for your notes, tasks, wikis, and databases." and it's totally true! Not surprisingly, people are comparing it to a mash-up of Google Docs, Evernote, Trello and Todoist.
Being able to do all these things using only one app is clearly a dream come true.
Notion works with blocks and they can be whatever you want: text, image, checklist, bullet points, code, you name it. You can easily write a sentence and then transform it in a stand-alone page or an entire database, the possibilities are (almost) endless.
If you're still not sure of what I'm talking about, just visit their homepage and test it live in the embedded demo page (no subscription required).
Think of Notion as similar to a box of Lego: you've got everything you need to make something — you just need to decide what it is you'll create. You can either follow the example on the box, or create something for yourself.
(Source: Owen Williams)
How to Use Notion
Notion has a multitude of blocks to use.
As we said, Notion is incredibly versatile and can be used for whatever you want, but the best way to get an idea of that is to see some examples of how people are using it.
The first one is from my own account and it's a database I use to keep track of the episode show notes I write for the Tools They Use podcast. I love that, along with this spreadsheet view, I can also change it and filter it by year, for example, or easily change it to a calendar view, and so on.
Notion itself provides you with a lot of pre-made templates for different areas of your life, from meeting notes to personal goals. Also, the ability to share pages using a unique link makes the app usable even for those who don't have an account.
THE FREE PDF + BEGINNER COURSE
The best way to absorb everything Notion is with the free PDF and the beginner course.
The course is hosted on Skillshare and can be accessed for 2-months totally free using the following link and the PDF is downloadable without any need to sign-up.
The PDF will help take you over the following:
Basic blocks of Notion

How to apply Notion to your every day

Create your first dashboard

Useful insights into how Notion works

A worksheet on whether Notion is for you

2-months free Notion credit

A Q&A of Notion most FAQs
Full NOTION COURSE
A quick mention of the full Notion Made Simple course.
Get the full Course: Notion Made Simple (4hrs)
First module FREE (just sign-up, skip checkout and begin)

Get 8 modules, with three lessons per module (beginner, intermediate, advanced)

Updated monthly with all the latest Notion knowledge

Over 24+ bonus lessons to help you go further and beyond!

All Patreon supporters get $50 off discount (become one here!)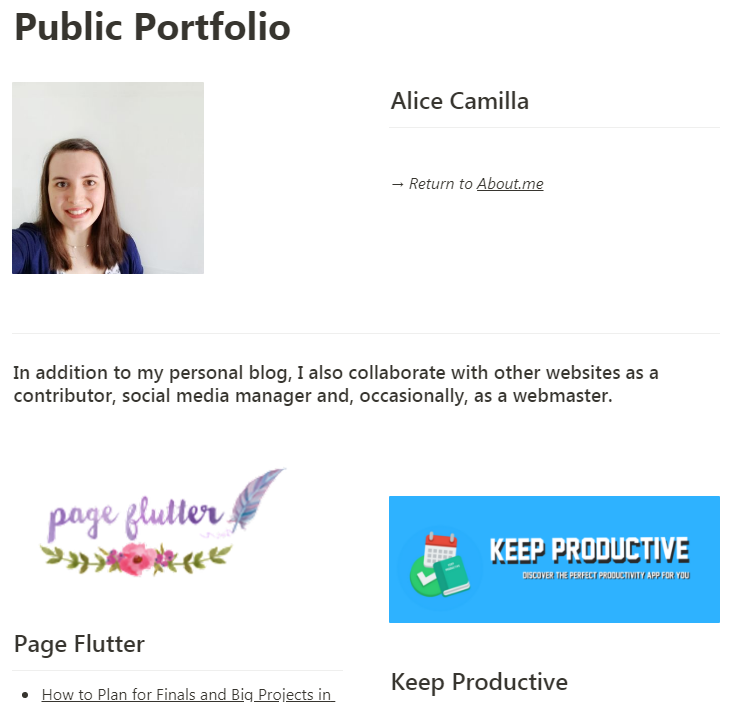 For example, I've recently used Notion to create a public portfolio of my work online that people can easily visit clicking a link. Being able to drag and drop different blocks in columns, allowed me to set up the page layout with much more freedom than a normal writing document, with zero effort compared to building a webpage from scratch.
The following examples will show you how people use Notion in their day-to-day life. Twitter is the perfect platform to bring all of the amazing, wonderful ways to use Notion across their work and personal life.
This is a great example from Ben about how to apply Notion to personal and work based goals. A lot of his set-up is like a web-page, allowing him to see his planning stages, goals and daily routine items.
How Much is Notion Priced at?
There are four plans in Notion:
Free up to 1,000 Blocks

$4 USD per month with a Personal plan (Unlimited Blocks)

$8 USD per month with a Team plan

Enterprise plan (you have to contact them for details)
For more info on the plans and to compare all the features, be sure to visit their pricing page.
Should I upgrade to Notion Paid?
Notion offer both monthly and yearly pricing. At $4 per month, yearly is cheaper. But how do you know that you're committed to Notion? Using the monthly $5 pricing might be best to get started with. These are some helpful tips for upgrading to Notion plans.
Is my Notion account static month to month?
Do you use Notion as a way to create internal wikis or checklists and rarely add to it on a monthly basis? Or when you do, it is very minor? If so, you might not need the paid plans. You could go on with the Free Plan until you see fit to upgrade.
How many blocks am I adding per month?
Getting a judge of how many blocks you add per month is the best way around using Notion. Maybe you add roughly 50 new blocks per month and have used 500 already. Then you'll be out of blocks within a (too early for maths)… 12 months slot. This might give you time to explore and judge Notion.
Which tools does Notion replace?
Are you paying $5 per month for Trello, $5 for Pipeline, and $7.99 a month for Evernote? And does Notion replace one or both of these? You can look to pause both of those subscriptions, temporarily, to explore whether Notion's paid plans are more suitable.

LEARN NOTION COURSE
Amazing, but how do you actually get started with Notion? We've got you covered, don't worry! Check out the beginners' guides down below and be sure to visit also the additional resources provided. You won't be disappointed.
Additional Resources
Full Course: Notion Made Simple (4hrs)
Get 8 modules, with three lessons per module (beginner, intermediate, advanced)

Updated monthly with all the latest Notion knowledge

Over 24+ bonus lessons to help you go further and beyond!
[PLAYLIST] NOTION - The Fast Rising Workspace Software
Thank you to Alice for putting this together, she helped bring together a fantastic round-up of how Notion works here.